Back to the overview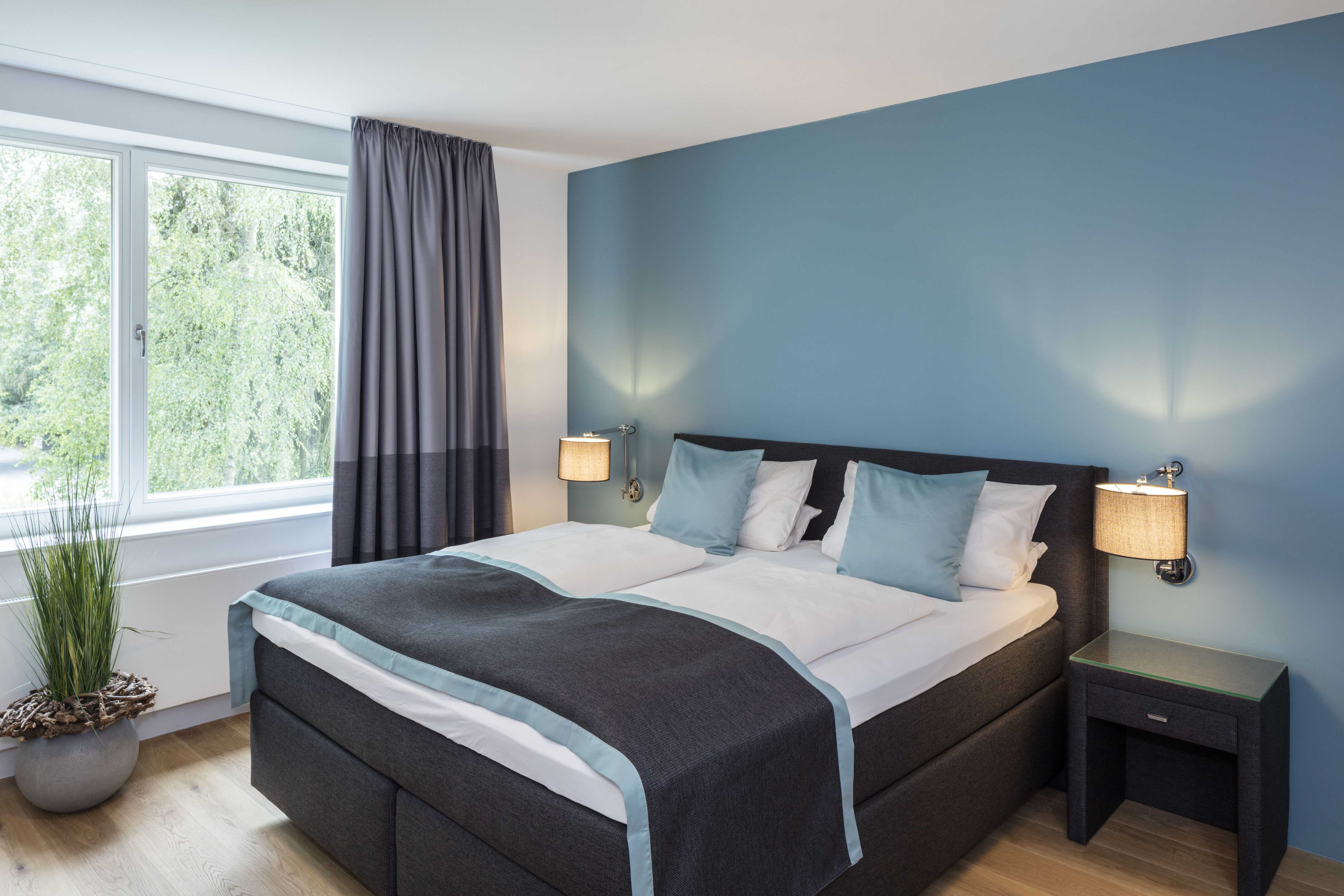 Historical accommodation with a modern flair
Team Meeting
Kürten, Germany
from 125 €
/ p.p. / Night
High-Speed Internet
available
Recreational opportunities
available
Non-smoking room
available
About the location
This will be your accommodation
With us you can expect one thing above all: a place full of peace & personality.
We combine modern comfort with the special charm of a centuries-old estate. An island in the green to enjoy, laugh, meet and also celebrate.
Our country estate is unique because of its history and the combination of flexible event rooms and comfortable hotel accommodation. And you have the possibility to use it exclusively.
Here you sleep
We have modernized and renovated 26 single, double and family rooms for you (currently 23 rooms are completed), divided into two houses, without losing the historic charm of the rooms.
Here you can meet
A special fireplace room with approx. 50 sqm and two larger meeting rooms with approx. 100 sqm with a view of the greenery make our accommodation something very special.
What else you can do with us
In the evening a wine tasting is a lot of fun - especially with colleagues in a sociable round. By the way, you can expand your wine knowledge and train your senses while enjoying the wine in a relaxed atmosphere. But also many other outdoor team activities are possible with us. And in our small bakery you can bake fresh bread under the professional guidance of the local master baker. The dough is prepared, the oven is preheated, you take over the kneading and shaping of the bread.
This will be your workspace
Wir haben für Euch drei Tagungsräume auf dem Gut, die alle mit moderner Tagungstechnik ausgestattet sind. So macht tagen Spaß!
In unseren unterschiedlichen Tagungspauschalen sind neben der Raummiete und Verpflegung auch der Screen, ein Flipchart und ein Moderationskoffer enthalten. WLAN ist selbstverständlich kostenlos.
Eat & Drink Options - take care of you.
Unser Küchenchef versorgt Euch über den Tag mit leckeren, regionalen Produkten. Je nach Tagungspauschale bekommt Ihr von uns leckere Snacks in den Kaffeepausen und einen ausgewogenen Lunch zur Mittagspause. Am Abend könnt ihr bei uns ein frisch zubereitetes Abendessen buchen.
This is how you can get active
Wir bieten Euch mit unseren Partnern ein umfassendes Aktivitätenprogramm an, welches jede Veranstaltung zu einem Highlight macht. Sprecht uns gerne an, dann schicken wir Euch unsere Übersicht der verschiedenen Out- und Indoor Aktivitäten von Geo Caching, über Brot backen hin zu Actio Painting. Der Teamgedanke steht dabei auf alle Fälle im Vordergrund.
Location
Distances
By car
Cologne main station: 40 min
Cologne/Bonn airport: 40 min
Bergisch Gladbach: 20 min
By public transport
Cologne main station: 60 min
Bergisch Gladbach: 35 min
Map
FAQ
Why you should book with meetreet?
At meetreet, you receive additional services such as a direct contact person or simple contract processing. The prices vary in many cases depending on the season and the location's capacity.
Why should we make the inquiry with meetreet?
You have a direct contact person with us. The location receives all the necessary information and we connect you with the appropriate partners in the region. This saves you a lot of time in the research and you can start with a good feeling.
Is our inquiry binding?
No, with your inquiry, there is no obligation to book. However, you should only inquire if the location really fits your requirements. Obligation arises only when confirming the non-binding offer and singing contract with the location.