Back to the overview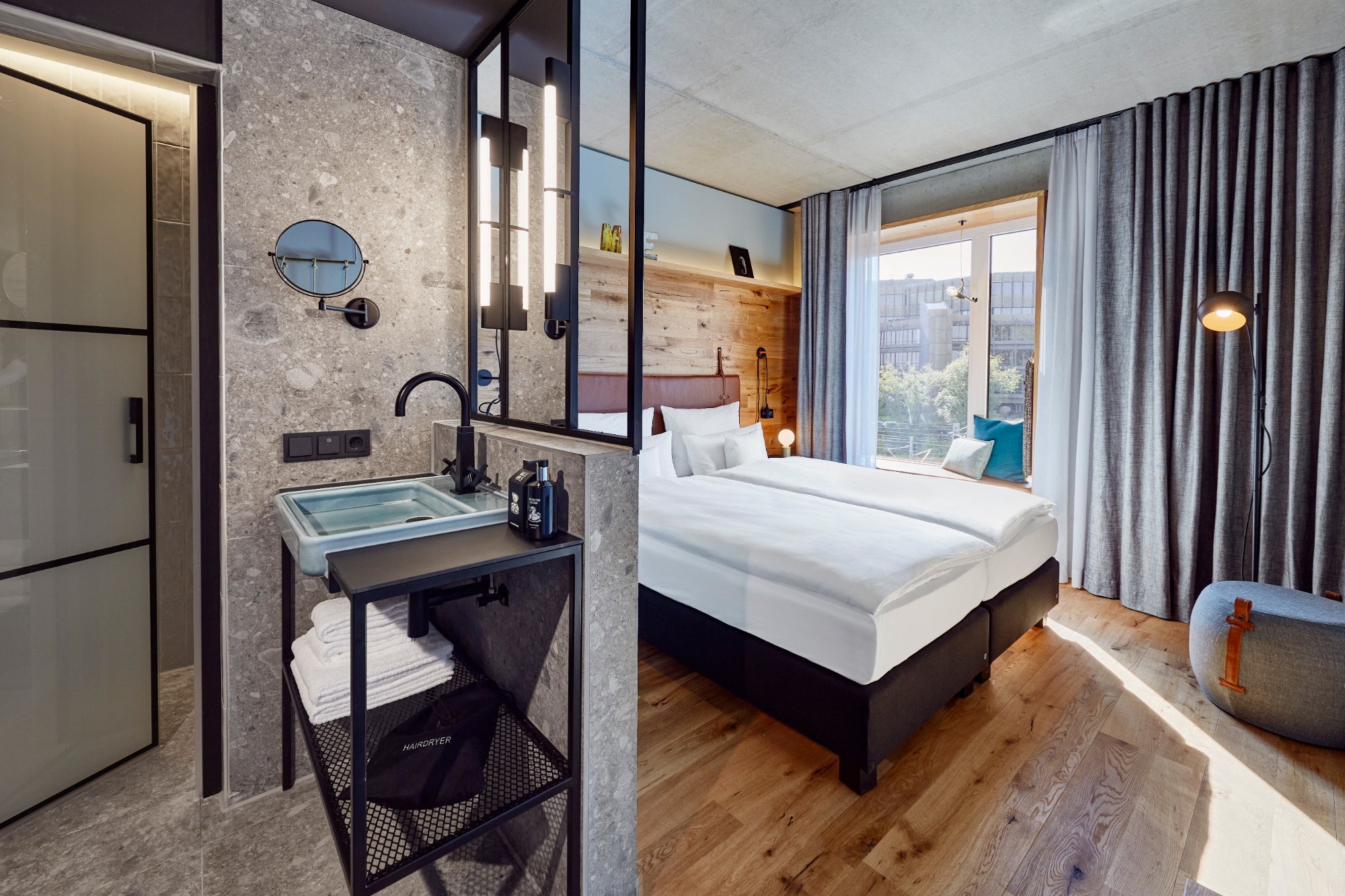 me and all hotel
Kreatives Co-Working Hotel
Kiel, Germany
from 116 €
/ p.p. / Night
Spa & wellness area
available
Co-working opportunities
available
Charging station
available
High-Speed Internet
available
Recreational opportunities
available
Non-smoking room
available
About the location
This will be your accommodation
In this hotel you dream in super cozy 164 rooms directly on the Kiel inner fjord. Including free minibar, high-speed WiFi and access to the fitness, sauna and relaxation area. You can also look forward to fabulous local hero events in our lounge with billiards, delicious drinks and street food from the well-known Aloha Dogs. The main station, city center and ferry terminal can be reached on foot in 3-5 minutes.
This will be your workspace
Creativity and passion need freedom of mind and space for inspiration. A good mood is created in a beautiful atmosphere and with extra delicious coffee. And good results need a place to celebrate them. Make your ideas shine!
Our boardrooms are the perfect rooms for good meetings and concentrated work, effortlessly combining comfort and efficiency.
Eat & Drink Options - how we take care
All-day flat rate: € 75.00 / per participant
Half-day flat rate: € 66.00 / per participant
We are happy to fulfill special requests and we are always open to your ideas. Talk to us! We organize your perfect event.
This is how you can get active
Billiards
table tennis
free bike rental
free SUP rental
Fitness, sauna and relaxation area
Free events such as living room concerts and DJ evenings
Location
Kiel Central Station: 0.4 km
City center: 0.5 km
Motorway: 2.5 km
Cruise Terminal: 2.5 km
Wunderino Arena: 1.1 km
Map
FAQ
Why you should book with meetreet?
At meetreet, you receive additional services such as a direct contact person or simple contract processing. The prices vary in many cases depending on the season and the location's capacity.
Why should we make the inquiry with meetreet?
You have a direct contact person with us. The location receives all the necessary information and we connect you with the appropriate partners in the region. This saves you a lot of time in the research and you can start with a good feeling.
Is our inquiry binding?
No, with your inquiry, there is no obligation to book. However, you should only inquire if the location really fits your requirements. Obligation arises only when confirming the non-binding offer and singing contract with the location.